Picos de Europa: Spain's First National Park
WRITTEN BY: MEGAN KOPP
Disclosure: This post contains Affiliate Links.
For me, the thought of travel to northern Spain was always about hiking the Camino de Santiago. That was always the goal. While it's good to have a goal, some trips have a way of morphing from an original idea to something even better than you could imagine. Discovering Picos de Europa took our exploration of northern Spain in a different direction.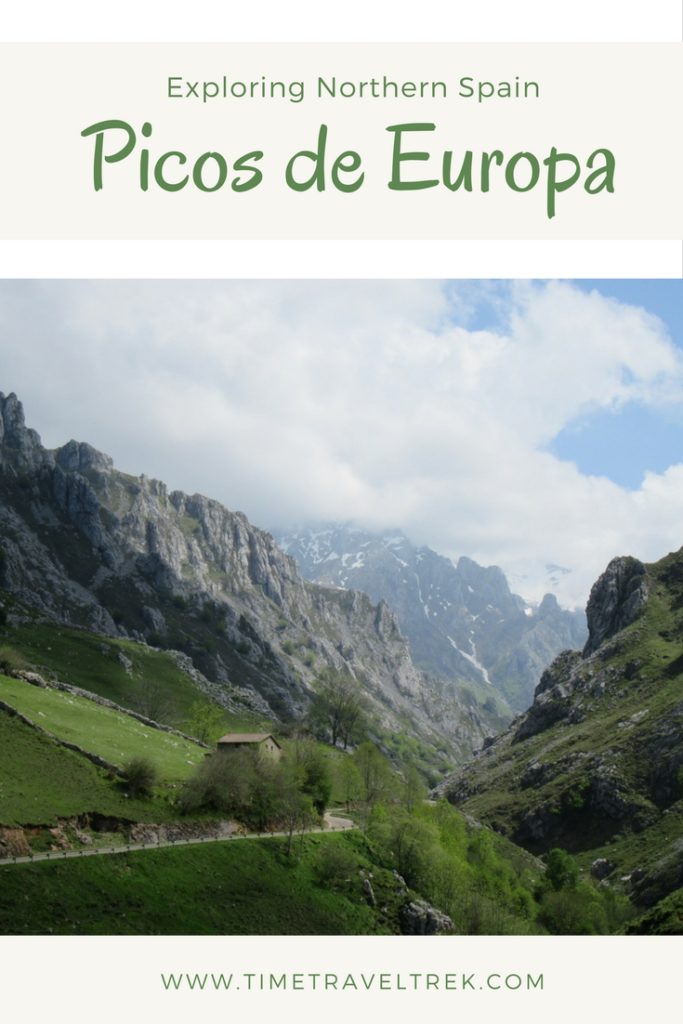 Ideas and a Different Reality
It all started with the Camino de Santiago. If you've ever seen the movie, The Way,
starring Martin Sheen, you've seen portions of this historic route. I've had a guidebook and map on my bookshelf for years. It's on the list to do eventually, but…
The reality is that the Camino wanders not only along forest and mountain paths, but across vast stretches of farmland, through towns and along sections of roadway across northern Spain. It is a long and winding path. Furthermore, the section we were considering ran some 750 kilometres (465 miles) from St Jean Pied de Port in France through the Basque Pyrenees, across the plains and on to Santiago de Compostela. Check out A Pilgrim's Guide to the Camino de Santiago: St. Jean – Roncesvalles – Santiago
if you'd like to to learn more.
The more we researched, the less it sounded like a trek we could realistically do with only one month of holidays and a host other "must-sees" on the list.
Flipping through the The Rough Guide to Spain
, we stumbled across Picos de Europa – a small mountainous region in Asturias and Cantabria. A couple quick keystrokes and we were looking at pictures of rugged and snow-capped limestone peaks and deep river gorges. Without a doubt, we knew Picos de Europa was our kind of place. In addition, we discovered that Cantabria was also home to one of the best collections of cave paintings in Europe. Our path was set.
Picos de Europa
Spain's oldest national park (est. 1918) is located about a seven-hour drive north of Madrid. The area has been inhabited since Paleolithic times. The region's lush meadows, forests and alpine pastures have been farmed for the past 5,000 years.
Picos de Europa straddles three provinces in northern Spain: Asturias, Cantabria and León. The peaks rise up just 20 kilometres (12 ½ miles) inland of Spain's northern coast. It is home to such endangered species as the Cantabrian brown bear, the Iberian lynx and the Cantabrian chamoix.
The mountain range itself is relatively small, stretching only about 40 kilometres (25 miles) east to west and 20 kilometres (12 ½ miles) north to south, but it rises like a steep barricade. As a result, the roads wind through narrow valleys and it takes more than you'd think to get from one section to another. None of the main roads cut through the centre of the massif, so we decided to base out of Arenas de Cabrales for our first foray into Picos de Europa.
If You Go:
Picos de Europa is about a seven-hour drive north of Madrid. Flying into Santander and renting a car might be a good idea if short on time. More information about Picos de Europa can be found online from the Tourism Office of Spain.


Next up: Hiking Cares Gorge
SaveSave
SaveSave
SaveSave