Hiking the Chilkoot Trail: Historic Gear Checklists
WRITTEN BY: MEGAN KOPP
Posted in one of the cooking shelters at Sheep Camp, we found a sheet of paper with historic packing list suggestions for men and women planning to hike the Chilkoot Trail through Alaska, British Columbia and the Yukon.
Read the lists below and – after you research to learn that oakum is tarred fibre used to plug cracks, that mackinaw is a water-repellent woolen cloth and you stop laughing at the fact that women were advised to bring both house and knitted slippers – you will appreciate why the Chilkoot Trail became the world's longest museum of discarded gear!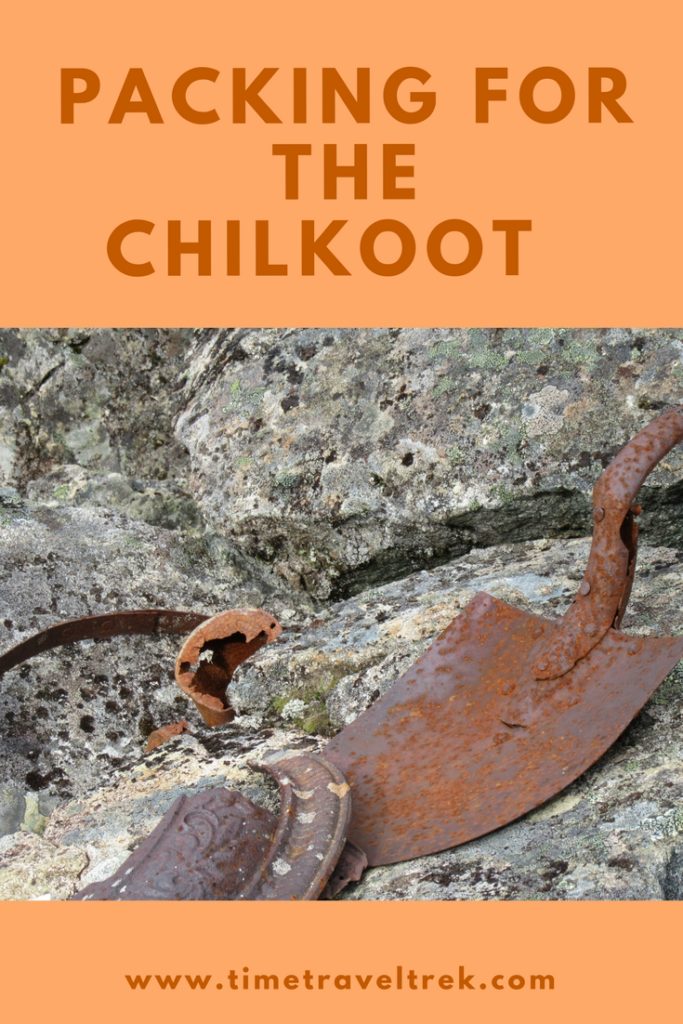 Gear for Men – as listed by Pierre Berton in his book, Klondike, p. 245
Three suits of heavy underwear
A mackinaw suit
Two pairs of mackinaw trousers
A heavy rubber-lined coat
 A dozen pairs of wool socks
Half a dozen pairs of mittens
Two over shirts
Two pairs of snag-proof rubber boots
Two pairs of shoes
Two pairs of blankets
Four towels
Two pairs of overall
A suit of oilskin clothing
Five yards of mosquito netting
Groceries:
400 lbs flour
50 lbs cornmeal
50 lbs oatmeal
35 lbs rice
100 lbs beans
40 lbs candles
100 lbs granulated sugar
8 lbs baking powder
200 lbs bacon
2 lbs soda
36 yeast cakes
15 lbs salt
1 lb pepper
½ lb mustard
¼ lb ginger
25 lbs evaporated apples
25 lbs evaporated peaches
25 lbs evaporated apricots
25 lbs fish
10 lbs pitted plums
50 lbs evaporated onions
50 lbs evaporated potatoes
24 lbs coffee
5 lbs tea
4 dozen tins condensed milk
5 bars laundry soap
60 boxes matches
15 lbs soup vegetables
25 cans butter
In addition, one must bring these items: steel stove, gold pan, three nest of granite buckets, a cup, plate, knife, fork, two spoons, two frying pans, coffeepot, pick, hand saw, whipsaw, whetstone, hatchet, two shovels, three files, draw-knife, axe, three chisels, twenty pounds of nails, butcher knife, hammer, compass, jackplane, square, Yukon sled, two hundred feet of rope, fifteen pounds of pitch, ten pounds of oakum, and a canvas tent.
Gear for Women – as suggested by Annie Hall Strong in The Skagway News on December 31, 1897
1 pair house slippers
1 pair knitted slippers
1 pair heavy-soled walking shoes
1 pair arctics
1 pair felt boots
1 pair German socks
1 pair heavy gum boots
3 heavy all-wool stockings
3 pair summer stockings
2 pair summer stockings
Moccasins can be purchased here of the Indians. The tall bicycle shoe with extra sole would make an excellent walking shoe. In the way of wearing apparel, a woman can comfortably get along with:
1 good dress
1 suit heavy Mackinaw, waist and bloomers
1 summer suit
3 short skirts of heavy duck or denim, to wear over bloomers
3 suits winter underwear
3 suits summer underwear
1 chamois undervest
1 long sack nightdress, make of eiderdown or flannel
1 cotton nightdress
2 pair arctic mittens
1 pair heavy wool gloves
1 cap
1 arctic hood
1 hat with brim broad enough to hold the mosquito-netting away from the face
1 summer dress
3 aprons
2 wrappers
2 shirtwaists
some sort of gloves for summer wear; to protect hands from mosquitoes
Bedding:
1 piece of canvas, 5 ft x 14 ft
1 rubber blanket
2 pair, better 4 pair, all wool blankets
1 feather pillow
 A ready-sewed tick will be very nice to have, for it can be filled with dried moss and makes a good pioneer mattress.
"An old miner would no doubt laugh me to scorn for suggesting a little satchel or handbag, but the comfort derived from the hundred and one little extras a woman can deftly stow away in it will doubly repay the bother of carrying it." – Annie Hall Strong
Yup, I always take a little handbag… of course mine is called a backpack.
What's the most favorite piece of gear on your backpacking checklist?
SaveSave
SaveSave
SaveSave
SaveSave