WRITTEN BY: MEGAN KOPP
What's in a name?
Why do some place names call so loud and so far that you just have to get there?
Why does the Burren resonate in my soul?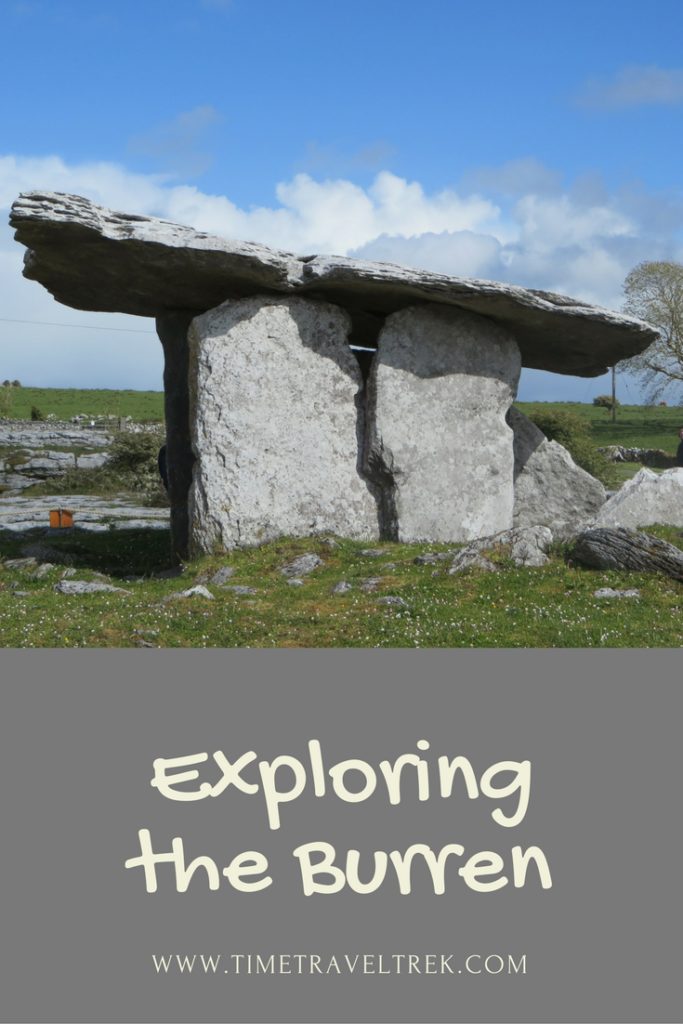 Stone Legacy
The Burren takes its name from the Irish word 'bhoireann'. It literally means "a rocky place." Approximately 260 square kilometres (100 sq mi), this limestone plateau looks devoid of life and purpose at first glance. Give it a few hours and it will capture your imagination.
The Burren has been home to humans for thousands of years. Large stone tombs – or megalithic tombs – were built during the Neolithic or New Stone Age. Over 90 megalithic tombs can still be found in the Burren.
Poulnabrone Dolmen is a classic portal tomb. 'Dolmen' is a Breton word for 'table.' Indeed the massive capstone – over 3 ½ metres long and 2 metres wide (12 ft x 7 ft) – gives the appearance of a table. Poulnabrone was built more than 5000 years ago. It was excavated in 1986. In addition to the more than 20 people buried at the tomb, pieces of pottery and jewellery were found. Poulnabrone is only one of dozens of prehistoric stone features found in the Burren.
In more recent times, Catholic landowners were evicted from their land in favour of Protestants by Cromwell's army in the mid-17th century. General Ludlow stated his opinion of the Burren as "a country where there is not water enough to drown a man, wood enough to hang one, or earth enough to bury him." Little did he know that the magic of the Burren lies in its resilience.
Finding Flora in the Burren
It's hard to put down roots on a rock, but that didn't stop people from living on the Burren and it definitely hasn't stopped a unique ecosystem from developing within the cracks and crevices of this stony stronghold. The Burren may look lifeless, but a closer look reveals alpine, arctic and Mediterranean species of plants – all growing side by side.
The region is made up of limestone rock that has eroded into a distinctive pattern known as a karren. It is crisscrossed with cracks called grikes. Water disappears beneath the stone into huge caves – the most famous of which is Aillwee Cave – and underground rivers. Water also nourishes the seeds that fall into the grikes. Over 70% of Ireland's 900 native plants species are found in the Burren. Take that, General Ludlow!
A rocky place with unique flora and hundreds of prehistoric and historic stone structures. I'm still not sure why the Burren spoke to me in the first place, but I'm sure glad it did.
We drove from Lisdoonvarna northeast on N-67 towards Ballyvaughan, heading south on R-480 to explore Aillwee Caves, Poulnabrone Dolmen, Caherconnell Ring Fort, and Leamaneh Castle. The Burren Centre  was closed on the day we passed through, but you can find it heading northwest of R-476 back towards Lisdoonvarna.
Read more about our Irish adventures at:
The Stone Circles of Cork & Kerry, Ireland
Towers and Forts: An Irish Treasure Hunt
SaveSave
SaveSave
SaveSave
SaveSave