Path of the Paddle: Canoeing Bowron Lakes
At first glance, my notebook tells a rather negative tale of wind and rain and mud-sucking portages. A closer look suggests that canoeing the twelve lake, 116.4 kilometre (72 mile) Bowron Lakes Canoe Circuit might just be for the birds.
Did I mention I like birds?
The world-renowned canoe circuit is home to loons, osprey, bald eagles, kingfishers, common mergansers, harlequin ducks, nuthatches, woodpeckers, warblers, chickadees, white-throated sparrows – the list goes on. There are also black bears, moose and mink in this rugged wilderness area. It is situated on the western slopes of the Cariboo Mountain Range, about 120 km (75 mi) east of Quesnel, B.C.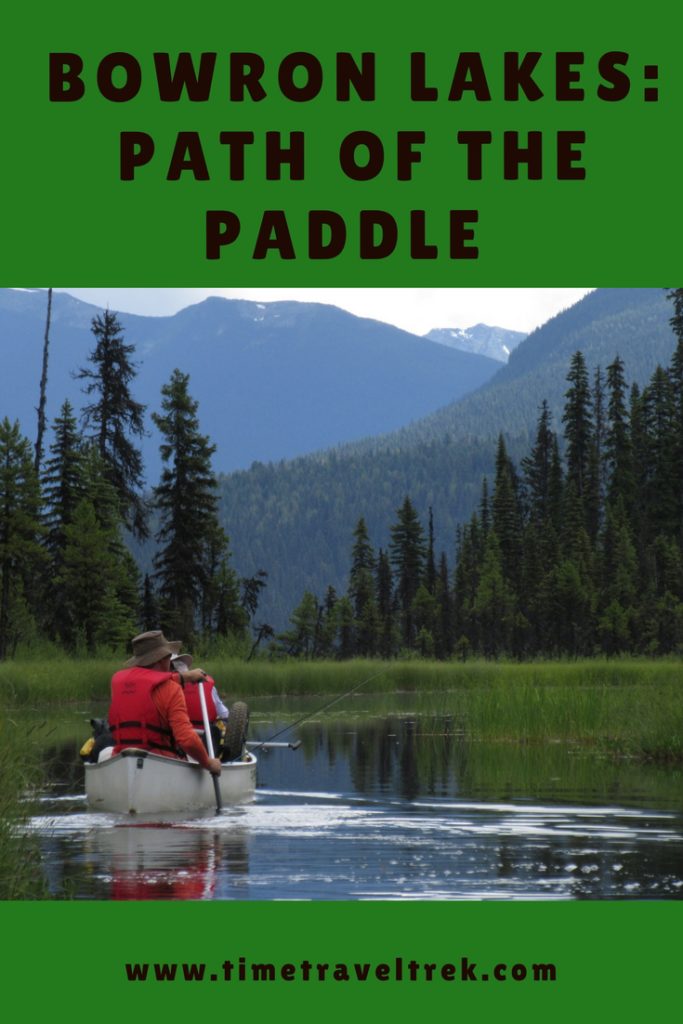 Getting Set to Paddle
Rather than hauling boats from Alberta, we rented from Bear River Mercantile. It is perfectly situated at the head of the Bowron River for our takeout at the end of the circuit.
Sandy and Dick own the business and are knowledgable outfitters. They are also keepers of history. The mercantile is also a museum, devoted to the history of Wells, Barkerville and the Bowron Lake area. It has a diverse collection of artifacts, as well as an impressive collection of old Bowron Lake photographs.
A Touch of History
During the heydays of the gold rush, Bowron Lake supplied fish to feed hungry miners. Bowron Lake was named after John Bowron, the first Gold Commissioner in nearby Barkerville. In the early 1900s, locals trapped and guided to make a living. Frank Kibbee was one of the first settlers to build a home on the shores of Bowron Lake in 1907. Other families began farming along the Bowron River. Lodges were built around the lake.
By the early 1920s, there was growing concern for the health of wildlife populations in the region. A 620 square kilometre (240 square mile) wildlife sanctuary was established. The protected area increased in size over the years and eventually became the 139,700 hectare Bowron Lakes Provincial Park in 1961.
The Path of the Paddle
We sat through the park staff orientation talk about weather, safety, leave no trace ethics and then set about sorting gear for the weigh in. Only 27 kilograms (60 lbs) of gear is allowed in the canoes on portages in order to keep the trails in somewhat good shape. Anything else goes on your back.
The canoe circuit runs counter-clockwise in a roughly rectangular shape. It starts with Kibble Lake and goes onto Indianpoint, Isaac, McCleary, Lanezi, Sandy, Unna, Babcock, Skoi, Spectacle, Swan before ending on Bowron Lake. Beyond the lakes, the circuit includes about 10 kilometres (6 mi) of portages and a short paddle down the swift Cariboo River.
Setting Off
It's uphill right off the get go – and we push, pull and find our rhythm on our way to Kibbee. Loons are everywhere – nesting, calling, fishing, flying. A short paddle, another portage, a little help to a young family of canoe trippers to manouver their load up and over a bridge and we're back in the water on Indianpoint Lake.
It's a short paddle to our first campsite – in time for Happy Hour, dinner, a couple of card games and a crackling fire. We head tuck into sleeping bags listening to one final song from a Swainson's Thrush before darkness descends.
The next five nights and six days would find us alternately setting up and taking down rain tarps. It would find us drifting by thundering waterfalls, grunting as we pull the boats through another portage, and uttering sighs of content as we sit by the evening fire listening to the call of the loons.
We angled for trout and kokanee, caught glimpses of mink cavorting on the shoreline, discovered bear tracks, and saw osprey dive into the lake.
Nothing beat the experience of watching a kingfisher play whack-a-mole with its catch, hearing a mother moose and her calf stroll by our campsite in shallow waters just offshore and counting the endless parade of young mergansers tagging along behind mom.
The Bowron Lakes Canoe Circuit is an ultimate wilderness experience.
If You Go:
Additional information about the Bowron Lakes Canoe Circuit can be found on the BC Parks site.
SaveSave
SaveSave
SaveSave
SaveSave
SaveSave