Paddling the South Saskatchewan River: Old Bindloss Ferry to Estuary
WRITTEN BY: MEGAN KOPP
Disclosure: This post may contain Affiliate Links.
Close encounter of the rattler kind and storm of the sesquicentennial behind us – Ma Nature went all out with a noisy and bright light show for Canada's 150th – we launched two canoes and a single kayak at an old ferry site on the South Saskatchewan River. Heading downstream, we were searching for a little r'n'r – with a dash of history on the side.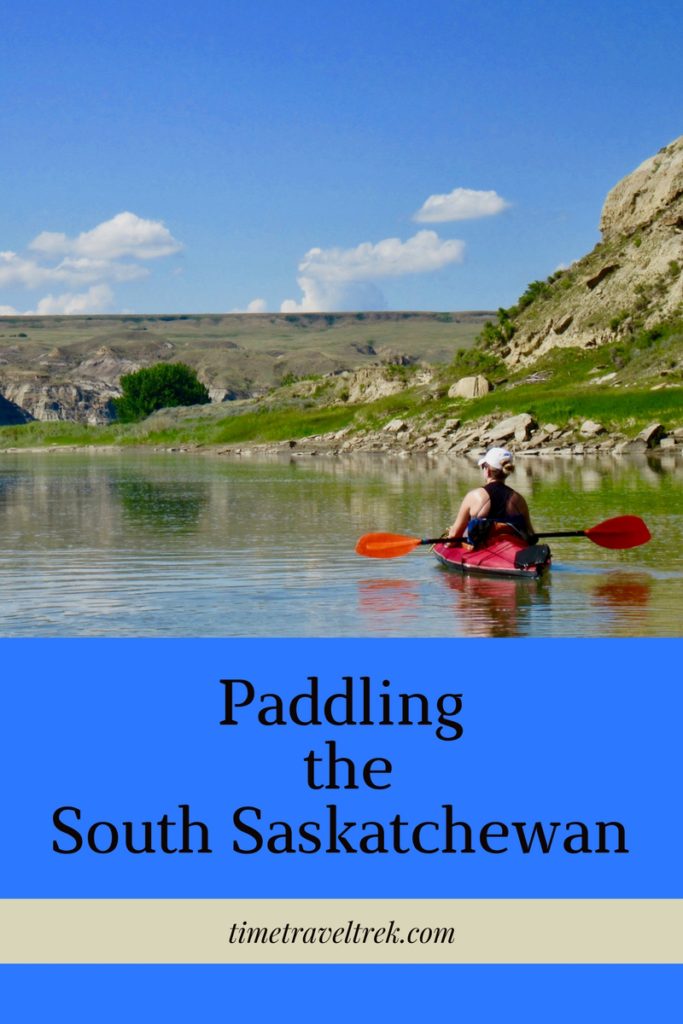 Paddling the South Saskatchewan River
In honour of Canada's 150th year, we decided to forgo modern forms of transport for a couple of days and paddle our way back into history – before planes, trains and automobiles – back to a time even before this great country called Canada came into existence.
Our starting place was the old Bindloss Ferry site, five kilometres (3 miles) downstream of Canadian Forces Base (CFB) Suffield. The crumbling remains of a concrete approach for the ferry crossing was perfect for sorting gear away from the mud. It's early July. River levels are dropping. The spring melt is pretty much done, making canoeing and gravel bar camping a little easier.
Day one's route would take us on a gentle, approximately 21 km (13 mi) float down through the coulees of the Middle Sand Hills, past deer grazing along the still-green grasslands, beaver plying the waterways, and cliff swallows dipping into the mud on the riverbank to build their clay castles in rocky outcrops.
We continued to a point just below Sandy Point bridge and its established, but busy campground, where an open sand and gravel and rattlesnake-free shoreline became home for the night. Nighthawks serenade from above as we sit riverside, watching the sky turn golden.
River Day Two
The second day – with almost 32 km (20 mi) of river travel – should have felt a little more difficult. The light push of the wind, the warmth of the sun and the catch and release of sauger – tiny fish in comparison to the massive sturgeon that inhabit the South Saskatchewan River – had us drifting along without much of a worry. Popping back and forth along the Alberta/Saskatchewan border, the river meandered effortlessly in a northeastly direction.
A gaggle of geese pulled up onshore as we drifted by. Three young owls took practice flights in the low trees along the bank. Sandpipers ran along the mudflats. A great blue heron flew effortlessly downstream.
Ma Nature held true to course and gave us a little test of wind in our faces for a short stretch of the journey. She relented, came back in from behind and allowed us to drift down using umbrellas as sails. The ghostly abutments of the Canadian Pacific Railway (CPR) bridge that spanned the river in 1914 came into sight.
Long abandoned, the concrete pillars on a midstream island provided the perfect backdrop for camp – with ready-built shade. Unloading quickly, it was all hands in the cooler for happy hour. Deer crisscross the river up and downstream. Beavers swim around us. White pelicans bob in slow upstream eddies. Relaxed? Oh yeah – nature's medicine is working its magic!
Final Float to the Pullout
We can hear the meal bell from the nearby Hutterite colony as we prep for a leisurely breakfast. Reluctantly, we load up and drift down past the flood-blasted muddy confluence with Red Deer River. The channel becomes a wide flat lake for a short stretch. Tip: stay river right to avoid having to walk on water across the shallow sections.
It is somewhere right in here, on river left, that Hudson's Bay Company (HBC) explorer, surveyor and trader Peter Fidler built Chesterfield House in the fall of 1800. HBC established the trading post on the South Saskatchewan River to provide competition for the Northwest Company (NWC) and other Canadians trading for fox, wolf, badger and beaver pelts with the Blackfoot, Blood, Peigan and Gros Ventre in southern Alberta.
It is also somewhere right in here that his First Nations wife, Mary Mackegonne, gave birth to their third son George on November 10th of that same year. Fidler and his family would spent two seasons at the original post before it was abandoned due to increasing tensions with the Gros Ventre.
The post was resurrected in the winter of 1804/05, left for almost another two decades and then rebuilt as a temporary trading post and palisade about seven km (4 mi) downstream of the confluence in 1822 – the same year Peter Fidler passed away in his post at Fort Dauphin. In April of 1823, Chesterfield House was abandoned for good.
Sadly, there are no visible remains of either trading post, but the fact that we were paddling alongside the past was some kind of Canada cool.
When You Go:
Our trip ran from the Old Bindloss Ferry in Alberta at Km 255 (5 km east of the CFB Suffield boundary) to the Estuary Ferry in Saskatchewan, just past Km 320. We covered 65 km distance on the South Saskatchewan River easily in 2 ½ days.
We accessed the put-in point at the Old Bindloss Ferry landing on the north side of the river. Range Road 2-3 is graveled down to a band of willows just above the river, but be aware the lower section is not maintained and may have washouts in wet weather.
A second vehicle was left at the take-out point at the Estuary Ferry (talked with ferry operator to ensure that where it was parked was okay before leaving)
Buy a copy of Prairie River, by Dawn Dickinson and Dennis Baresco. It may be dated, but the cultural and natural history information and maps inside this small volume are still valuable. You can find it online in books at Paddle Alberta's store.
You can access additional maps online at Alberta River Basins. Flow levels can be monitored by accessing the Alberta Rivers: Data and Advisories Mobile App on this same page.
Hosted by:

SaveSave
SaveSave
SaveSave
SaveSave
SaveSave
SaveSave
SaveSave
SaveSave
SaveSave
SaveSave