Machu Picchu's Story in Stone
WRITTEN BY: MEGAN KOPP
Disclosure: This post may contain Affiliate Links.
Sitting in the Vilcabamba mountain range of Peru, perched high above the Vilcanota River, is a sacred place. They call it Machu Picchu. Viewed from above it looks like a great bird – like a condor –  turning in full flight. Up close, it is a key to a past life. Machu Picchu's story is shared in the carefully considered placement of rock.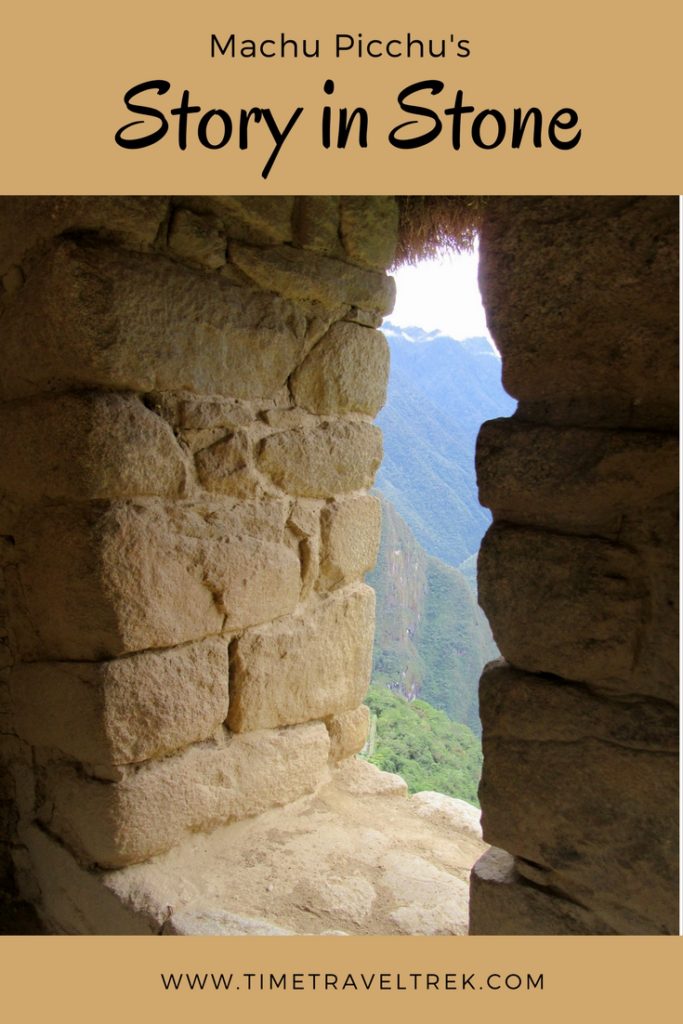 The Story of a Name
The original name of Machu Picchu is unknown. Archaeologist and explorer Dr. Hiram Bingham gave the city its current name in 1911. It is the same name of the mountain that rises above it. Machu means "old" in the Quechua language. Picchu means "mountain" or "peak."
The namesake old mountain itself towers at a height of 3,050 meters (10,004 feet) to the south. Waynapicchu (young peak) rises 2,750 m (8,965 ft) to the north. The buildings and terraces of Machu Picchu sprawls out on the col between the two peaks, sitting at around 2,400 m (7,824 ft) above sea level.
Building Machu Picchu's Story
According to archaeologists, building Machu Picchu's story began during the reign of Inca Pachakuteq in 1438. It took about 30 years to complete the initial phases of construction. An exclusive group of priests and priestesses and important members of the Inca government lived here.
Machu Picchu is divided into two sections: agricultural and urban. The agricultural section contains more than 100 terraces. It covers over half of the built area within the site. Experts estimate that the terraces were capable of producing nearly 9,000 kilograms (19,840 pounds) of corn each year. The urban section holds the main temples, residences and storehouses.
The stony enclave became an educational center for future leaders until 1537 when war broke out. As a result of the conflict, Machu Picchu was slowly and systematically abandoned over the next eight years. It soon became a distant memory, its presence known only to locals.
Machu Picchu's Story of Rediscovery & Restoration
1895 – Peruvian government restores the old Inca trail from Ollantaytambo to Quillabamba (passing below Machu Picchu, alongside the Vilcanota river)
1907 – Two local families move into Machu Picchu and farm the terraces
1911 – Dr. Hiram Bingham (Yale University) is guided to Machu Picchu for the first time
1912 – National Geographic and Yale University lead an expedition to open tombs, uncover buildings, photograph buildings and complete topographical research
1914 – Third expedition by Bingham; explores trails leading to Macchu Picchu
late 1914 to early 1934 – Machu Picchu is left alone again
1934 – Spanish government and Patronato de Arqueologia (archaeological sponsorship) take over, start to remove growth and begin restoration
1941 – Machu Picchu is declared a National Archaeolgical Park
1946 – Construction on a road to connect the archaeological site from the begins
1948 –  Road opens and a tourist hotel is built near ruins
1981 – The site is declared a Historical Sanctuary by Peruvian government
1983 – Machu Picchu becomes a UNESCO Cultural World Heritage site
Hidden Stories Seen Today
Dig a little deeper, look a little closer and Machu Picchu's story starts to emerge. The Sacred Plaza includes the Main Temple, the Temple of Three Windows and the Priest's House. There is half of an Incan Cross placed in front of the Temple of the Three Windows.
Why only half of a cross? Because the trio of open windows face west. When the sun come in the windows, the light hits the cross and the shadow that is cast completes the cross. Circumstance? While it may seem like it, this was a result of careful consideration and planning.
Paying Attention to Detail
Compare and contrast the granite stones used in the buildings. Notice the range of quality. A finer grade of stone was used to build royal residences and temples. The stone placement is precise. Primitive stonework can be found in the terraces, storehouses and other less important buildings. Read the stones, learn a little more of Machu Picchu's story.
Look at the doorways. Some entrances have a double-jamb doorway. This means that it the entrance to a sacred place, such as the priest's quarters and areas used for ceremonies.
Many doorways are quite tall. There is a reason. Inca rulers were carried everywhere. The extra height was necessary to facilitate movement of the Inca.
Entrance doors are almost always trapezoidal in shape. They look cool, but there is more to it. Earthquakes are common in the region. Trapezoidal shapes are strong. They resist movement.
Now, check out the roofs. Cylindrical stones were stacked in the gables. Decorative? No, they had a purpose. These stones were used to tie down wooden roof beams to keep the roof from blowing off in strong winds.
Machu Picchu's Story of Random Stones
The Funeral Rock next to the Guardhouse is a granite block delicately carved into an altar. It was used for funeral rituals, sacrifices, healings and offerings to Pachamama, Mother Earth. Most people see the large funeral rock, few see the smaller stones.
The Apacheta is a collection of medium-sized volcanic, limestone, sandstone, and other stones not native to the area. They are now found littered around the funeral rock. It is thought that these stones were brought by pilgrims as offerings during Inca times. When a pilgrim crosses a mountain pass (abra) or visits a sacred place for the first time, carry a stone to make an offering to gain protection from mountain spirits.
Each stone in Machu Picchu holds a story – a story of purpose, a story of vision, a story of belief. Machu Picchu's story is written in stone.
Read more about the Historic Sanctuary at Machu Picchu on the UNESCO WHC website.
What stories did you uncover in your visit to this storied place?
Planning to Go?
A wide selection of accommodation options can be found in nearby Agua Calientes, also known as Machupicchu.
SaveSave
SaveSave
SaveSave
SaveSave
SaveSave
SaveSave
SaveSave
SaveSave
SaveSave
SaveSave