First Time Visit to Guadalajara, Mexico
WRITTEN BY: MEGAN KOPP
Disclosure: This post contains Affiliate Links.
"Are you sure it's safe?"
That's the first question people asked us when we said we were heading through Guadalajara. We were travelling by bus from Mexico's Pacific Coast.
There are no guarantees of safety on any trip. While that may be true, we felt completely comfortable stepping out on foot on our arrival late afternoon to explore. Guadalajara is Mexico's second largest city. However, its historical center is easily explored on foot.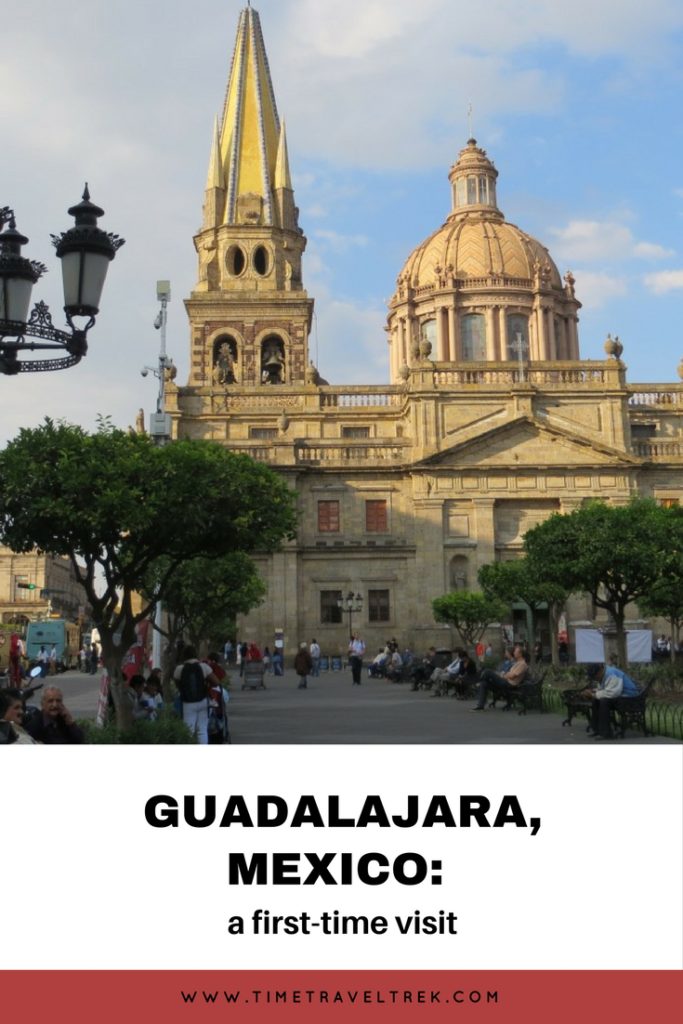 Time for a Historical Walkabout
From our hotel room, we headed north for one block on Avenida Ramón Colon. Turning west on Calle Francisco I. Madero for one block and north for three blocks on Avenida 16 de Septiembre, we arrived at Plaza de Armas.
This welcoming plaza was remodelled in 1910 for Mexican Independence centennial celebrations. It frames a charming wrought-iron bandstand that was brought in from Paris.
The Palacio de Gobierno del Estado de Jalisco – government palace – lies on the eastern edge of the plaza. It is an impressive two-storey, Baroque-style structure. The building was completed in 1790. Peek inside for a glimpse of the murals painted by José Clemente Orozco.
On the northern edge of Plaza de Armas lies the imposing Catedral de Guadalajara. Construction of this massive cathedral was ordered by Philip of Spain. Building began in 1568.
The cathedral wasn't officially finished until 1618 – and even then construction was ongoing. The original towers were square. Damaged by an earthquake in 1818, they were taken down and replaced with the current Neo-Gothic towers in 1848. The brilliant yellow tower tiles come from Sayula, a small town south of Guadalajara.
Perfect Plazas and More!
Plaza de la Rotonda lies to the north of the cathedral. This shaded green space is home to a monument built in 1951 to honour a select group of Jalisco artists, scientists, politicians and others notable figures. Rotonda de los Jaliscienses Ilustres was previously known as the Rotonda de Hombres Illustres de Jalisco (Rotunda of Illustrious Men of Jalisco). Because teacher and humanist Irene Obledo Garcia joined the group in 2000, the name changed.
Heading east we strolled through Plaza de la Liberación – Liberation Square – towards Teatro Degollado, seated at the far east end of the plaza. Construction began in 1856 on this Neoclassical theatre. The portico – or roofed structure supported by columns – includes a marble decorative wall surface over the entrance. The stone depicts Apollo and the nine muses.
We walked behind the theatre along the Paseo Degollado. The tiny Plaza Fundadores includes a sculpture of Dona Beatriz Hernández de Sánchez Olea. She is one of the city's heroines.  Dona Beatriz helped bring about the foundation of Guadalajara City in 1532.
Strolling down the paseo, we ended up at the art-strewn Plaza Tapatio and the Cabañas Cultural Institute.
The Cabañas Cultural Institute
This Neoclassical building was originally built as a charitable institute to house orphans, the elderly, the poor, and the sick. The building was designated a UNESCO World Heritage Site in 1997 and is now a museum and cultural center.
From here, we worked our way down the stair off the plaza to the market – another story of its own!
It may have been our first time visiting Guadalajara while on our way to Guanajuato – but it won't be our last.
If You Go:
Hotel Morales was not only well-located for strolling historic sites, it was elegant and had efficient, friendly staff.
SaveSave
SaveSave