Exploring Northern Spain: Fuente De
WRITTEN BY: MEGAN KOPP
Disclosure: This post contains Affiliate Links.
Zipping up close to 700 metres (2300 feet) without breaking a sweat sounds like heaven. Indeed, the cable car at Fuente Dé is a little slice of bliss. Exploring the hiking trails of Picos de Europa in Northern Spain just got a whole lot easier!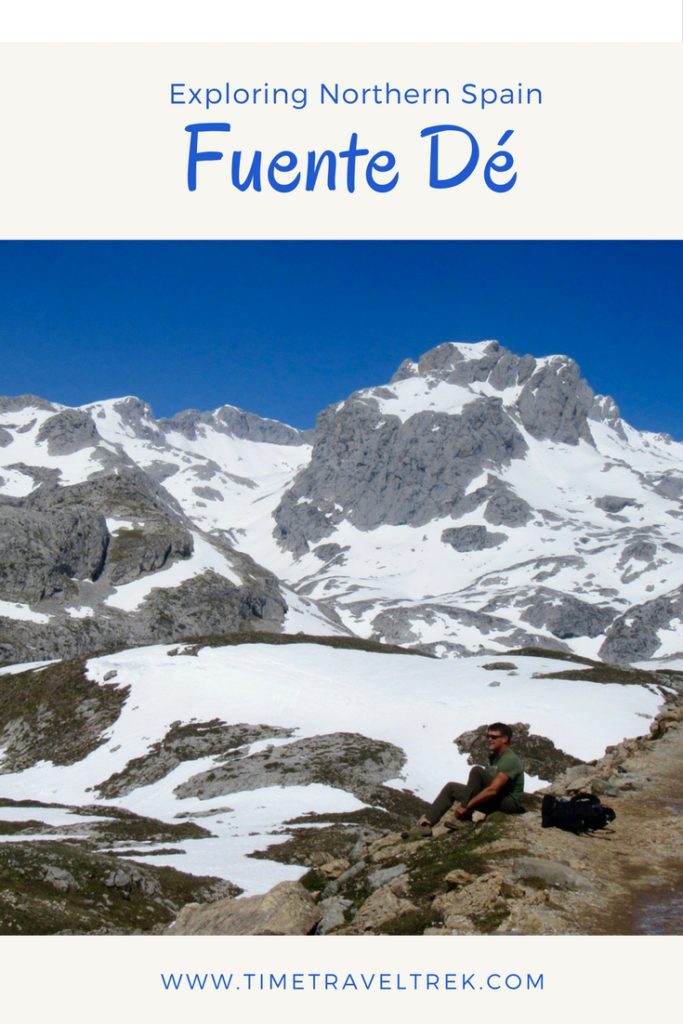 The Southeastern Side of Picos de Europa
There are places that make your heart sing. Picos de Europa is one of those places. From Arenas de Cabrales, we moved southeast to Potes to continue our exploration of Picos from Fuente Dé.
It is an easy half hour drive from Potes up to Fuente Dé. The rugged stone wall at the end of the valley draws eyes away from the cable car – or teléforico – passing overhead.
We couldn't help snapping a few pics before heading over to the terminal for the ride up into the still partially snow-covered alpine. The cable car has been hauling people up the mountainside since the 1960s.
Hiking around Fuente Dé
Mere minutes after boarding, we are standing at the cable car summit. Packs on backs, light hikers laced tight on eager feet and we're off.
Within 20 minutes there are no crowds and only a few other people working their way through lingering patches of snow.
We took route PR24 in a clockwise direction. The trail climbs up to a pass before heading down the other side to a red-roofed refugio (closed until summer).
From the refugio, we took a short detour up onto a rise in search of the elusive chamois.
And wouldn't you know it, we saw one!
We climbed back up to the route, past Hotel Áliva (again, closed for the season) and down towards an old church.
The Virgen de la Salud Puerto de Aliva stands out in the meadows like a beacon to all who wander nearby.
Heading Down from the Alpine
From here the trail joins up with a gravel road for a short distance as it descends back down toward Espinama.
We pass an historic fountain before descending into a thick oak forest. Towards the end of the hike, the trail surface became a bit of a mud bog in early May.
The sight of the cable car at Fuente Dé looked even sweeter than it did on our initial approach. What a hike!
Trail PR 24 – over and out.
If You Go:
The cable car at Fuente Dé cost 11 Euros each on our visit.
The circular route following PR 24 – including countless detours and an extended picnic time – took us 6 ½ hours. Total distance was 16.8 kilometres (10.4 miles).
SaveSave
SaveSave
SaveSave
SaveSave