Exploring Northern Spain: Cares Gorge
WRITTEN BY: MEGAN KOPP
Disclosure: This post contains Affiliate Links.
More than 500 workers carved over 70 tunnels to carry water from Cain to Poncebos for a hydroelectric project. The project started in 1915 and was finished in 1921. Eleven workers died. Of course we didn't know any of this when we started out. All we knew is that we were going to hike into the famous Cares Gorge, in Picos de Europa, Spain.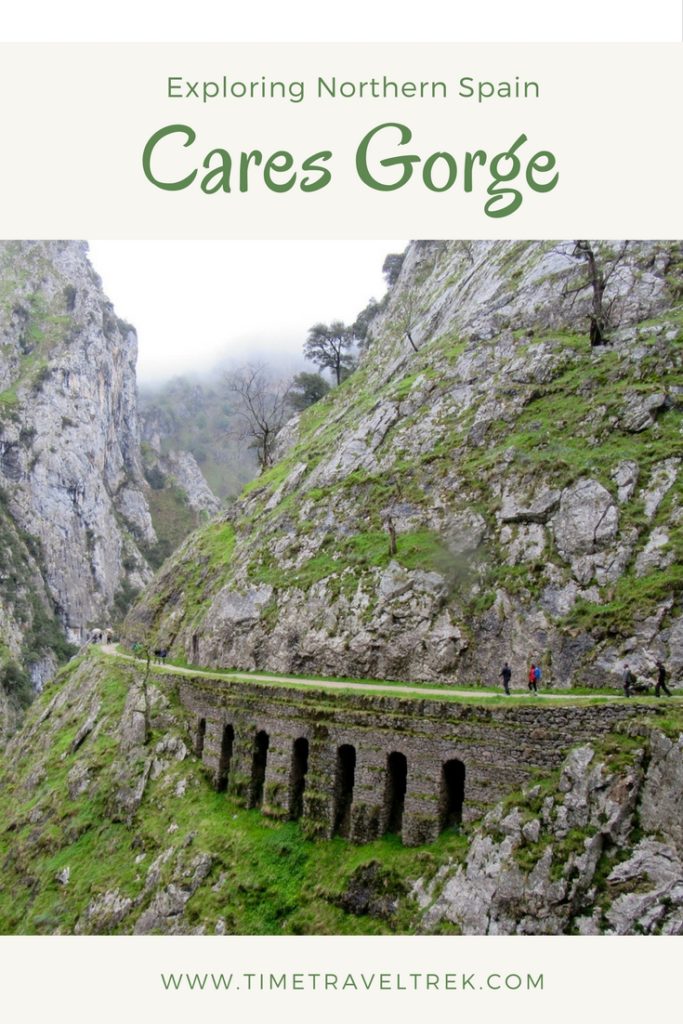 The Spectacular Gorge
The Cares Gorge (Garganta del Cares) is a cleft running through the heart of the Picos de Europa mountain range. Carved by the Cares River, this massive rift reaches more than 1000 metres (3300 feet) deep in places. It stretches 12 kilometres (7.5 miles) in length.
Portions of the Cares River were diverted in the early 1900s for a hydroelectric power. Some of the water from the Cares flows through a canal that is built into the mountainside. The maintenance path for the canal is now an extremely popular hiking path through Cares Gorge.
The Path
It is possible to do the hike in either direction. Because we based out of Arenas de Cabrales, we started at Poncebos. The six kilometre (3.7 mile) drive snakes high into the mountains. After one false start, parking too early and crossing over the canal before the bridge and tunnel, we found the trailhead.
It is a steep, rocky climb up to the pass. Near the summit, old stone buildings speak to another life. It is also here that the first signs of the canal appear. At the summit, interpretive signs tell the story of the canal's construction. Who knew?
Down, down, down – the path levels off as it hugs the cliff above, below and on top of the leaky canal. Stone retaining walls and short tunnels help maintain the grade. We catch occasional glimpses of the fast-flowing, blue Cares River far below. There are numerous side trails – goat tracks for the most part – veering off down into the canyon. The views continue to make us stop again and again for photo after photo.
Should you consider doing even a portion of this walk if in northern Spain?
Without a doubt!

Tips for Hiking the Cares Gorge
Be prepared for hundreds of people if on a weekend.
There are no washrooms or trash cans along the route, use Leave No Trace principles.
Sporadic signposts help mark distances.
Weather can change without warning, pack an umbrella and windcoat.
Don't forget your camera.
To get to the trailhead, take route AS-264 to Poncebos from Arenas de Cabrales. Drive across the bridge and through the tunnel and watch for the sign "Funicular de Bulnes." Take the right fork of the road here and continue uphill to the gate and trailhead.
Get a hiking guidebook:
SaveSave
SaveSave
SaveSave
SaveSave