Barkerville, B.C. – A Grave History
Written by: Megan Kopp
At its peak in the 1860s, the gold mining town of Barkerville, B.C. was the biggest thing west of Chicago and north of San Francisco.
The ghost town today sees a mere fraction of the number of people that once clomped along the wooden sidewalks off Williams Creek in the foothills of the Cariboo Mountains. Past glories have become faded memories. Stories of what life was like back in the goldrush era need to be carefully curated and fleshed out by historians. One surprising way to uncover life is to look at death. Cemeteries are devoted to remembering lives, and the historic Barkerville Cemetery is no exception.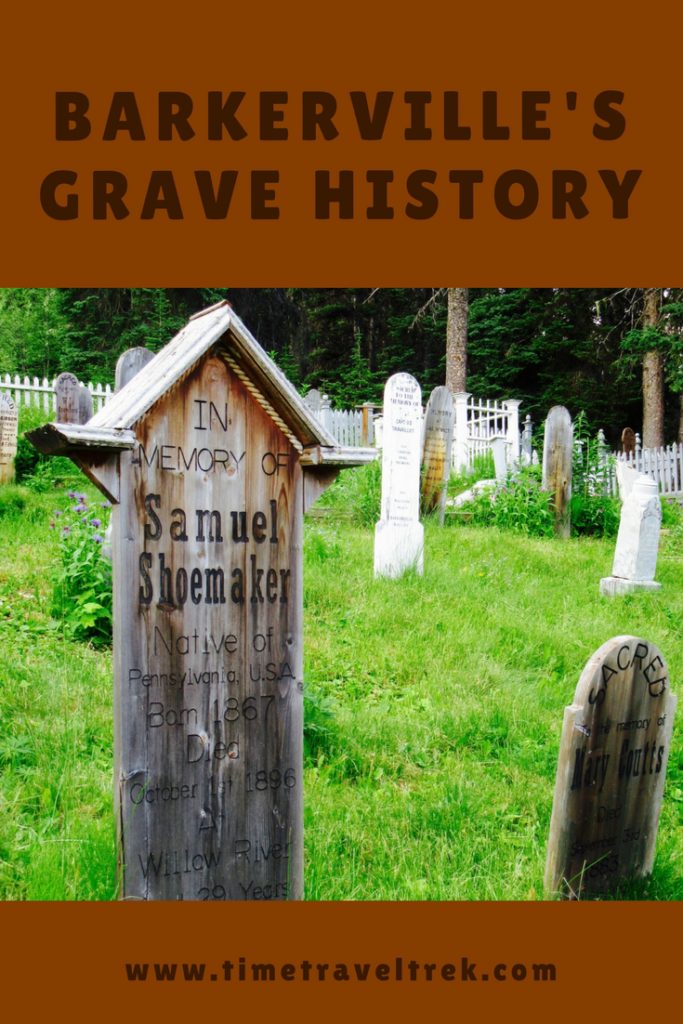 Walking Back in Time
We tromped along with a small group on a guided tour, passing the site of the Royal Cariboo Hospital before arriving at the hillside resting place for miners and soldiers, surveyors and shopkeepers, doctors and lawyers. Most came from Canada and the United States. Others travelled to Barkerville from as far away as Wales, England, Ireland, Scotland, Sweden and Germany.
31, 21, 32, 24, 25 – many people died young in the goldfields. Peter Gibson was the first soul to be laid to rest on July 24th, 1863 in what was then known as the Cameronton Cemetery. Peter, 31, died of typhoid fever. He worked for John 'Cariboo' Cameron before his early demise.
Cariboo Cameron was a miner who struck it rich with a claim on Williams Creek. A small township grew up around his strike. Not surprisingly, it was dubbed Cameronton. Cameron himself died on November 7th, 1888. At the age of 68, Cameron is one of the oldest people buried in the cemetery.
Sidenote: Although Cameron was a noteworthy citizen, it's the tale of his first wife – who is not actually buried in the Barkerville cemetery – that is even more memorable. Seriously, who has "two caskets, three funerals and four burials?"
By 1866, the Barkerville Cemetery had 27 graves. There were no Chinese or Native burials in this graveyard – a reflection of the time. Most of the burials were men – a reflection of the population demographics during the goldrush.
Women of the Goldrush
One notable woman buried in the Barkerville Cemetery is Janet Allan. The marker on her grave reads:
Sacred
to the memory of
Janet Allan
The Beloved Wife of
William Allan
Native of Fireshire
Scotland
Who departed this life
September 1870
Aged 42 years
Sometimes I wish we could rewrite these tributes. There's an interpretive sign just outside of the town of Barkerville that tells so much more of Janet's story.
"…dressed like a man, drank like a man, and died like a man…"
Janet was actually better known as 'Scotch Jenny' – a well-respected woman who showed kindness for the sick. Apparently this store keeper's wife also dressed like a man, drank like a man, and died like a man (when the carriage she was driving plunged over a bank into William's Creek on September 7th, 1870).
Today, our journey to see Scotch Jenny's final resting place was less of a hike and more of a stroll up the 750 metre (1/2 mile) long, accessible trail from St Saviour's Anglican Church – along a portion of the old Cariboo Wagon Road. Guided tours to the Baskerville Cemetery run on a regular basis, departing from the church.
Go ahead, take a walk and discover life through death with Barkerville's fascinating grave history.
SaveSave
SaveSave
SaveSave
SaveSave