Baja's Cave Paintings: Cueva de las Flechas
WRITTEN BY: MEGAN KOPP
Deep in the heart of Arroyo de San Pablo lies – in our opinion – lies one of the most intriguing painted rock art panels in all of Baja's Sierra de San Francisco's UNESCO World Heritage Site. Cueva de las Flechas tops the list of must-sees when it comes to Baja's cave paintings.
While not as grand and copious in quantity as Cueva Pintada across the canyon, several of the images in Cueva de las Flechas (Cave of the Arrows) stand apart from those found elsewhere.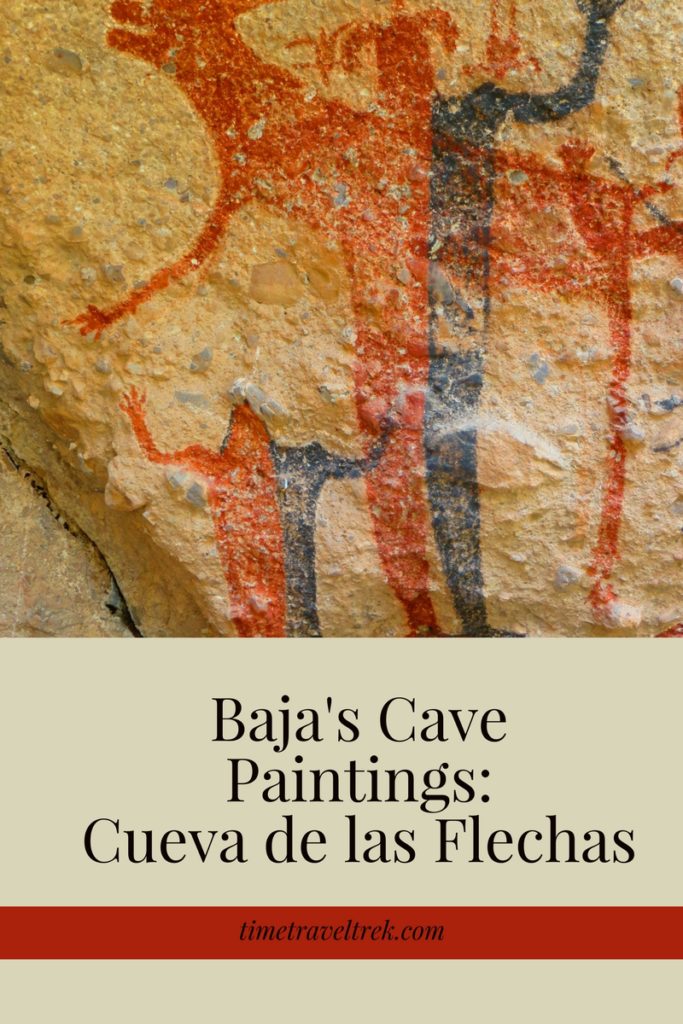 Exploring the Cave of the Arrows
As the name suggests – Cave of the Arrows – there are numerous images of animals with arrows in their bodies.
The suggestion of movement is implied by painting two or more images in succession. Each subsequent image is painted at a slightly different angle to show progression.
These rabbits (conejos) demonstrate movement and are outlined but not painted. Was this done on purpose or are they incomplete images? Only the artist knows.
Masterful Artwork
What really draws the eye in Cueva de las Flechas are the large monos (drawings of human figures). If you study them closely, unique details stand out.
The two figures on the left and centre (of the group of four) have tiny figures upside down on their shoulders. These tiny figures include animals such as deer (venado) and possibly a turtle (tortuga) as well as monos.
The headdresses on three of the large monos are also finely drawn and rare in the rock art found throughout the canyon.
The central figure and one on the right are impaled by arrows. The arrowheads drawn on the central mono are similar to obsidian (black, volcanic glass) points found in the area.
Hands are painted as if they are held high in surrender.
Cave Paintings Spur the Imagination
The black and red mono to left of centre has another distinct small rabbit painted at the foot. Is it a spirit animal or totem? The more you look, the more questions that arise. We laid back on the wooden walkway and let our minds wander.
While the exact meaning of this panel is unknown, it is thought that it could commemorate a battle and could indicate a territorial border between different tribes.
As well, in early hunter-gatherer societies such as this, shamans used the representation of death to symbolize a trance-induced supernatural journey.
Which do you choose to believe?
Read More: Baja's Cave Paintings: An Overview
Affiliate Link:

SaveSave
SaveSave
SaveSave
SaveSave