Baja's Cave Paintings: An Overview
WRITTEN BY: MEGAN KOPP
When friends suggested a mule-supported camping trip to explore the over 2000-year-old rock art in the isolated, sparsely populated region of Baja's Sierra de San Francisco, we had just one question. When?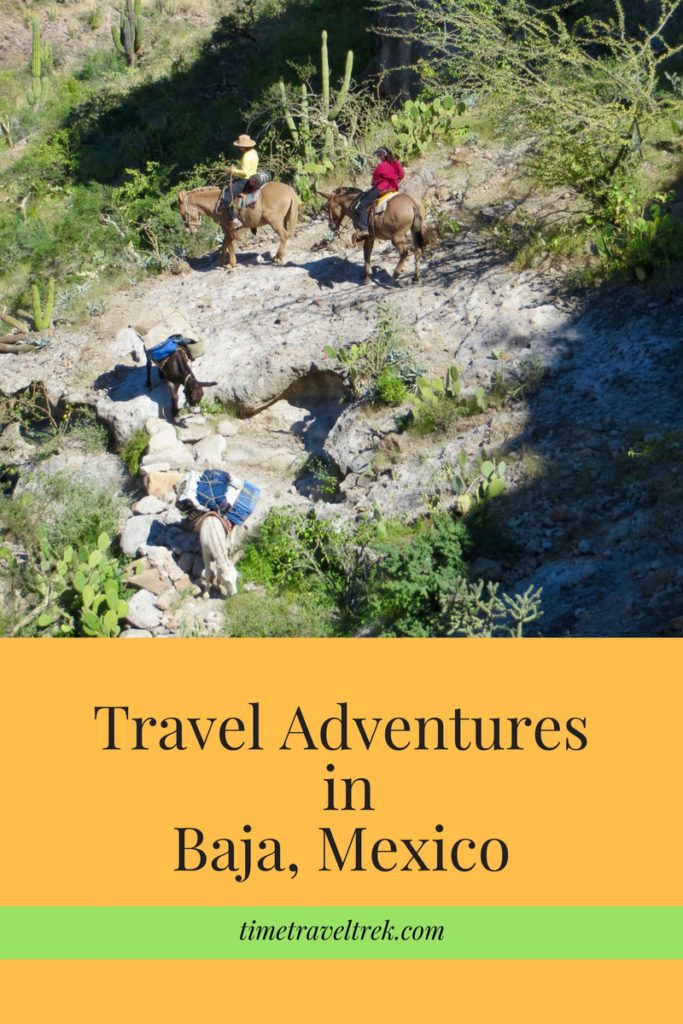 Let the Adventure Begin
We didn't ask how long it would take to travel there.
We didn't know the laughs hiring a Spanish-speaking guide would bring when forced to rely on our own limited Spanish language skills.
We didn't think about the reality of being perched on a mule while descending a rocky, narrow path into the depths of a desert canyon.
We just knew that visiting this UNESCO World Heritage Site was going to be an adventure.
The Rock Art
of Sierra de San Francisco
In the neighbourhood of 400 painted rock shelters and caves can be found in the heart of Mexico's Baja Peninsula.
They include recognizable images – or pictographs – of humans, animals such as mountain lions, bighorn sheep, whales, turtles, fish, and birds, bows and arrows, and countless abstract forms.
Long panels sometimes hold hundreds of pictographs, layered one on top of another.
The well-preserved paintings linger on cave walls and roofs, boldly expressed in red, yellow, black and white.
All of these elements illustrate the relationship of humans to their environment.
Discovery of Baja's Cave Paintings
Before the arrival of the Spanish, this territory belonged to the Guachimis – also referred to as the Cochimi.
Little is known of the early hunter-gatherers who expressed their thoughts through art on these walls.
The existence of these paintings remained unknown to the outside world until a Jesuit missionary, Francisco Javier Clavijero, reported the paintings to Rome in 1789.
Dutch and French scholars studied the art in late 1800s.
Numerous 20th century investigations were carried out by professional archaeologists, anthropologists, and amateurs alike.
American writers Stanley Gardner (creator of the Perry Mason detective stories) and Harry Crosby (author of The Cave Paintings of Baja California: Discovering the Great Murals of an Unknown People) explored the region – Gardner in the mid-1940s and Crosby from the 1970s.
A UNESCO World Heritage Site
The rock art in Sierra de San Francisco dates from around 100 B.C. to A.D. 1300.
In 1993, over 182,000 hectares of land in this mountainous region in the heart of Baja was designated a UNESCO World Heritage Site, helping to protect this fragile treasure.
When You Go:
Self-organized trips can be arranged in San Ignacio, where the Instituto Nacional de Antropologia e Historia (INAH) has a small museum and office. There are also organized tour companies such as Sea Kayak Adventures, Inc.
Read More: Cueva Pintada and Cueva de las Flechas
Affiliate Link:

SaveSave
SaveSave
SaveSave